Sam recently joined the crew on Cuan Law and we sat down with him on charter to get to know him a bit better.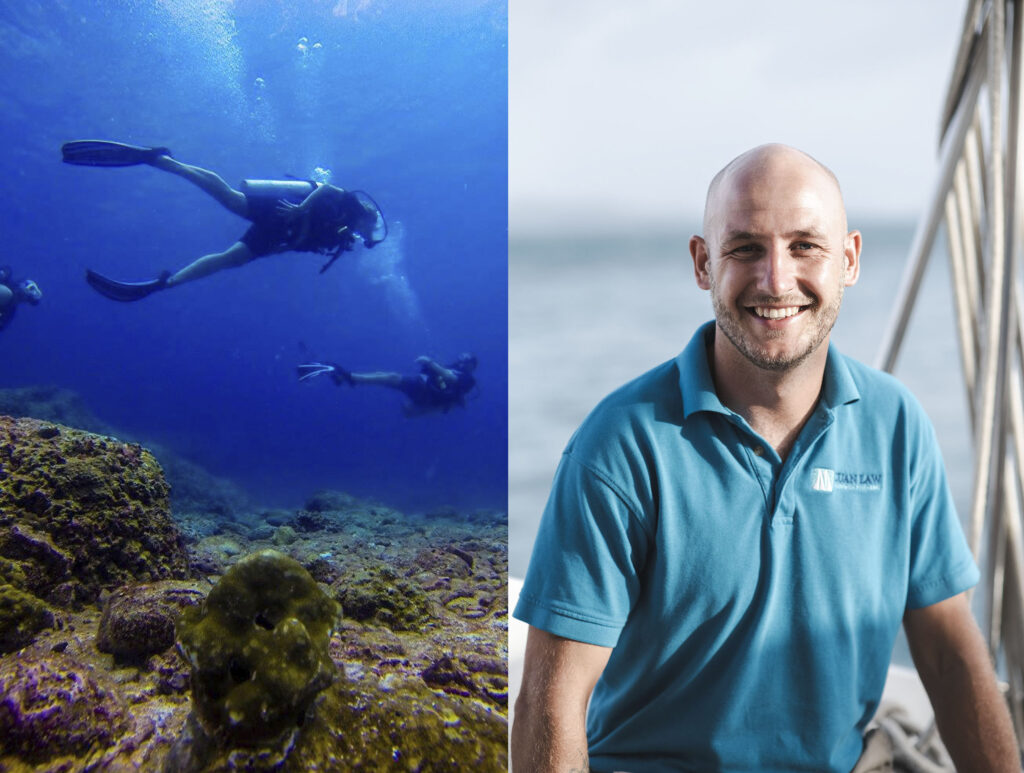 Tell us a little about Cornwall where you are from. 
Cornwall is a county on the south western peninsula of England and is probably most famous for it's world renowned beaches. It has almost 700km of coastline which means lots of amazing places for water activities. I grew up in a small fishing village called Port Isaac, made famous by the tv show Doc Martin & the home of The Fisherman's friends. Growing up there was a dream and no matter how much I travel & how many amazing places I visit I am always still drawn back there. port Isaac is and always will be my home.
What's the first memory you have of diving?
My first memory of diving is a place called Dahab, Egypt. It was there I learnt my Open water course & immediately my advanced course. My exact memories of my training dives are slightly blurred, probably from my excitement and concentration at the time but one thing I will Never forget is my dive at "The bells to blue hole" Starting at the surface and descending down an enclosed chimney to around 25m I remember the sheer wall drop off reaching several hundred metres. Crystal clear water and the gentle current made for an unforgettable dive, one I cannot wait to do again.
What brought you to Cuan Law?
Whilst teaching diving in Thailand I met Reka who many years later became the dive instructor on Cuan Law. When a vacancy became available she remembered I had told her I was looking to work on a live aboard dive boat and I applied. Now after not seeing each other for 5 years we are working together on Cuan Law.
Your favorite dive site in the BVI and why?
I am still yet to explore every dive site here in the B.V.I's. Who knows, maybe I never will get to explore them all, but my favourite dive so far is the wreck of the RMS Rhone. A great dive any day and especially amazing at night. So much history with the ship and an abundance of sea life makes it a must see if you come to the B.V.I's diving.
If you could listen to just one song on a dive what would it be?
One of my favourite things about diving is the peace and quiet. Often people will ask me if there is a way to listen to music underwater and my first thought is "why would anybody want to listen to music underwater" I love to hear the popping, cracking & grunting from the fish, shrimps and other organisms on the reefs. That beats any music I could take down there I think.
Any travel or diving tips for future guests?
Hmmmm it's hard for me to give travel advice because in my experience everybody enjoys travelling in very different ways. Some like living out of a backpack on $2 a day whilst others will spend $100,000 or more a week renting a boat. What I will say is, it doesn't matter how you do it or where you go. The world is a big and amazing place with all sorts of crazy things happening every day. Just get out there and experience new places, people and cultures. It really is worth more than anything else in my opinion.
When you aren't working what's your favorite way to enjoy the day?
When I'm working it usually involves me supervising or teaching divers which means I rarely get to go fun diving just for me. As I'm still fairly new on the island I've been spending my spare time exploring new dive sites without the responsibility of looking after others. I love meeting new people and going on all sorts of wild adventures. To be honest if someone has a crazy adventure idea I'm usually down to go.
Besides the diving what do you enjoy most with the guests?
I enjoy chatting to the guests and getting to know them. It's really interesting to hear their stories and to share mine. I meet a lot of new people through this line of work, often people I may never have crossed in day to day life normally. I really enjoy meeting unique people, all with different personalities, experiences & beliefs. I find it an amazing educational tool speaking to and learning from these people.
What's your favorite island in the Bvi so far?
My favourite island is probably Jost Van Dyke. Although not known for its dive spots it does have some pretty fun bars, namely Soggy Dollar & Foxys. Also a pretty cool natural jacuzzi spot called the bubbly pool. The perfect island for those days not diving and relaxing.
Follow Sam on Cuan Law via his instagram page https://www.instagram.com/divewithsam/
My favourite dive so far is the wreck of the RMS Rhone. A great dive any day and especially amazing at night."