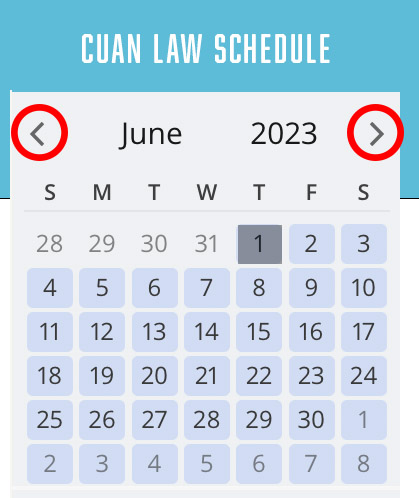 1. Click the arrows circled in red in the calendar control panel to choose your month – right arrow to move forwards left arrow to move backwards.
2. Click the date on the calendar control panel you wish to enquire about, eg June 1, 2023 as shown.
3. This will bring up 1 year from that date – so will show you the full schedule from June 1 2023, to June 1 2024.
4. If you are interested in even further than 1 year ahead just click on the arrow on the calendar control panel to move forwards. Then click on any specific date within the calendar control panel and the schedule will always hop ahead to show 1 full year ahead of that date. Eg if you click on Dec 30 2023 it will show you the entire schedule through to Dec 30 2024.
Have Questions? Call Us 1-284-499-1999
Let us know if you have any questions!