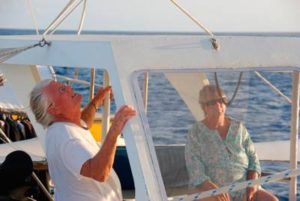 Duncan and Annie Muirhead
Annie and Duncan have believed in a simple philosophy. Take good young people and train them to work together in a friendly atmosphere but never forgetting that good service is paramount. That has been a great pleasure in their lives – to see young people develop their characters so well. Also to provide a boat for their guests that mimics a small luxury hotel with lots of activities to try. Treat non diving companions as equally as important as divers. Add really good food and the latest in a long line of amazing chefs certainly provides that!
The demand for this type of diving tourism exploded so Annie and Duncan got together with a charterer, Hal McCarney who built boats. In 1978 they created their first effort, the Lammer Law, designed by Duncan and built by Hal. But Annie needed more beds so in 1988 the second aluminum trimaran, the Cuan Law was built. After some changes in demand the Lammer Law was moved to the Galapagos, the Misty Law was sold along another trimaran they owned and had also operated in the BVI.
In 2017 Annie and Duncan retired but their legacy lives on and both are very free with advice to daughter Sasha and manager Kim who has almost grown up with the company having been around for 30 years and counting. Both do a fabulous job.
The heart of any ship is its crew and this is even more important in a Floating Hotel. All our crew are very energetic and fun loving with a great service attitude. They have their individual specialties but all pitch in as a team and cover for each other. We normally carry a crew of seven: Captain, Chef, Engineer, First Diver, Second Diver, and two Stewards or Stewardesses.
Because of crew rotation, your crew will be from the following.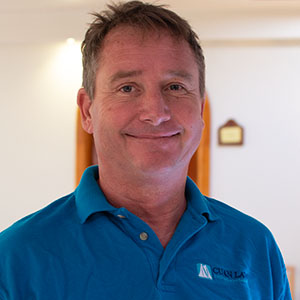 Senior Engineer/Captain
Scott
Captain Scott over many years has done everything and every job on the Cuan Law except Chef. We owe him a huge dept of gratitude as he has been the foundation stone of the crew. He has trained up dozens of our crew over the years. Scott started off as steward on board and then, after getting his Divemaster rating, he led many dives in addition to his work as steward. Scott still loves to dive and will certainly do some dives with you whilst on board. He then moved on to Engineer as he had always had a great interest in, and aptitude for, the ship's machinery and equipment. He has fixed numerous problems, installed much new equipment and machinery and done many upgrades. He still likes to mess around below decks playing with machines! After a few years as Engineer and then First Mate, we promoted him to Captain and added the job later of Captain Trainer. Scott has done many, many charters as Captain, has as much knowledge as Trimarine's founder Duncan, and really understands "The Cuan Law Way". He has a great sense of humor and is very fun-loving, and he runs a well organized and motivated team. Years ago he married our then Chef, Kellie, whom many of our past guests will remember and future guests might get to meet as she and Scott continue to fill in as relief crew. Scott's sister, Kim, is our Operations Manager.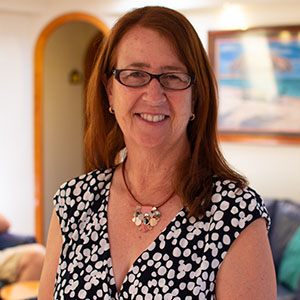 A few years after graduating from college when she decided to take some time to start traveling Kim first joined Trimarine the same year that Cuan Law was completed - 1988! She worked on board Lammer Law initially as stewardess and then worked on Cuan Law as relief chef on and off for several years interspersed with some great trips including 3 years in Japan, before making the BVI her permanent home in 1994. Her BVI adventures include working with small businesses, building a vacation villa and running the guest house style villa Annie & Duncan Muirhead owned, Serendipity House, until its sale in 2014. Her move to the Trimarine office in 2000 started off as a part time thing, but as time has passed and most recently with the impact of Hurricanes Irma and Maria in September 2017 Kim has taken on more responsibility. It is most likely that you'll reach her when you email or call us!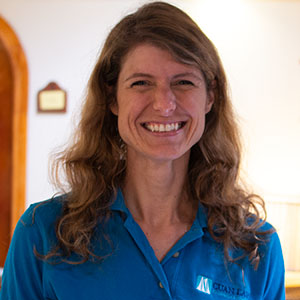 Kellie grew up on the move, but never beyond the Florida border until after she graduated university with her degree in Studio Art. From there she went on to live and work with other artists in New York, France, and finally the British Virgin Islands, with interspersed trips to India, Southeast Asia, and Central America. Her love for adventure (and very little convincing from Captain Scott) landed her aboard Cuan Law back in 2009, where she has worked as both stewardess and chef. She's now part of the Kellie and Scott relief crew and training team, finding joy in sharing tales of her own adventures aboard to both new crew and guest alike, including some fantastic down island trips with Annie & Duncan! When not on Cuan, she most likely has her hands covered in clay while she runs her pottery business, Sugar Sand Pottery, back in her Florida home with Scott.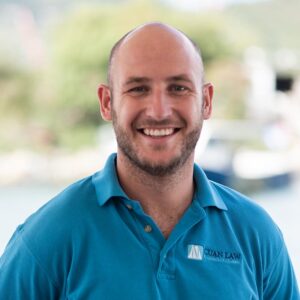 Sam grew up in a small fishing village called Port Isaac on the north coast of Cornwall in the UK. He has always loved the ocean and started his Scuba diving journey in the Red Sea, Egypt. Falling in love with it from the first go, he moved to Thailand and became a Dive Instructor and has been lucky enough to work all over the world sharing his knowledge & passion for all things scuba diving. Also an experienced Plumbing & Heating engineer, Sam enjoys problem solving and fixing all manner of things that inevitably come from living on a boat full time. Expect him to share one of his many stories from his travels around the world and if you have any scuba diving related questions, he is the man to ask!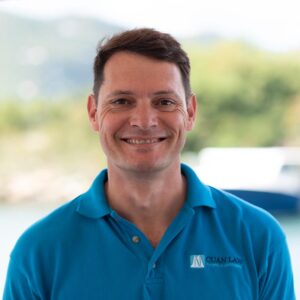 From South Africa, Jacques joined the team in September 2021. He has an extensive background in the customer service and hospitality industry. With his passion for people, and loving the outdoors, he pursued career opportunities outside of the office. From owning his first modest corner Cafe to building up a beach themed franchise of restaurants across South Africa, he showed his passion and dedication to create exceptional customer experiences wherever he goes. This is also shown in his day to day work on Cuan Law and his enthusiasm can be addictive. He traveled South Africa extensively during his restaurant days and decided he wanted to see more of the world. He changed his ambitions to the yachting industry, obtained the necessary qualifications, sending him on a new career adventure, right here to the beautiful islands of the Caribbean With his ambition and zest for life, Jacques always challenge himself physically and mentally. He is an endurance athlete with multiple marathons under the belt and trained fully for the Iron Man South Africa. He is currently busy with his RYA day skipper qualification with aspirations to obtain his Yachtmaster Offshore Captain's license. With his love for fresh air and epic beaches, it comes as no surprise that he is also already halfway to his Dive Master Qualification. Be sure to see him on your outdoor excursions, hikes, in the water and in the saloon, where he will keep you entertained and make epic cocktails.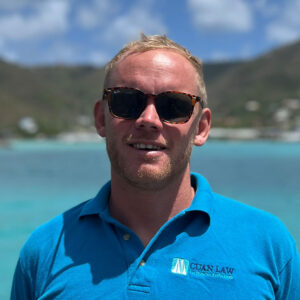 Senior Dive Instructor
Jack
Jack grew up in Northampton, England. He has always had a passion for being on the water and for travelling. He started Scuba diving in the Red Sea, Egypt whilst on vacation and was instantly hooked. He went on to complete his Dive Instructor qualifications in 2012 and has been working his way around the world since. He's diving career has taken him to some beautiful places, from the arctic circle to tropical reefs – Jack is in his element under water. In his spare time he enjoys surfing, hiking and exploring new countries.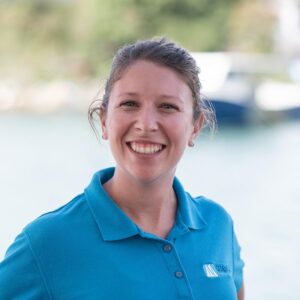 All the way from sunny South Africa, Amber has joined our crew with an extensive customer service background. Amber started out in the hospitality industry, running and owning a chain of restaurants back home. Another one of her passions is trading cryptocurrencies. Her love of trading and passion for people led to the creation of her own online training company, teaching others to trade cryptocurrencies as well. Looking for a new and exciting experience and a way to dive back into the hospitality industry, Amber packed her bags and travelled all the way across the seas to join our team as a stewardess. Amber welcomes new challenges which included getting her Dive Instructor certification early in 2023. She faces every situation with a bright and positive can do attitude, and as for her cocktails.... she's got your holiday vibes sorted!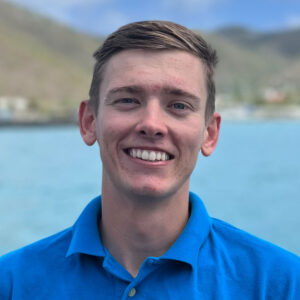 Darren grew up on the sunny shores of the Western Cape of South Africa. With a love for adventure and a thrill seeking attitude, Darren enjoys rock climbing and mountaineering, water sports and snow sports. He has worked in restaurants and the hospitality industry for several years, starting out part time whilst still in high school to make some extra pocket money, moving over to 5 star restaurants whilst busy with his marketing diploma. After graduating Darren felt he needed a change in scenery and decided a career in yachting would be the perfect fit, a combination of hospitality and a love for the ocean, water sports and adventure made Cuan Law the ideal platform to start his new career.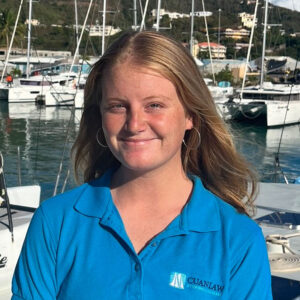 Kate grew up in a small coastal town in South Africa. She spent the majority of her time surfing, diving and practicing yoga. Her family and her have spent the past few years living aboard a monohull yacht in Panama. She spent time working at a local dive shop and sought out the local yoga studio to teach sunrise classes. She has spent a lot of time sailing around the Bocas Del Toro archipelago, and plans to do more sailing around the world!
Owner, Designer
Designer: Duncan Muirhead
Owner: Trimarine Boat Co. Ltd. 
Size
Length on deck: 105 feet
Beam: 44 feet
Displacement: 75 tons with fuel and water 
Sailing & Cabins
Rig: Equal masted stay sail schooner
Working sail area: 5,200 sq. feet
Mast height: 103 feet
Speed under power: 8-10 knots
Speed under sail: 6-14 knots
Guest Accommodations: Ten two person staterooms with private bathroom, all available as either Queen or Twin. 
Power & Diving
Engines: Two 210 hp Caterpillar diesels to drive two feathering propellers
Generators: 4
Air fills: Two electric Mako compressors of 18 cfm capacity and full Nitrox capability