When you hear the ship's bell, its either time for a briefing or time to eat! Many liveaboards have excellent food but Cuan Law is in a class of its own. All meals are served on the comfortable and spacious teak aft deck with the ocean and the islands of Caribbean as your backdrop.
Each morning begins with fruit juice, fresh coffee and tea available from 6.30. Soon after,breakfast is served buffet style on the aft deck. All of our breakfasts are served with a fresh fruit platter, a selection of cold fruit juices, teas, coffee, toast, muffins, bagels, an assortment of breakfast cereals and ice-cooled yogurts. Each day a variety of hot dishes are offered.
Lunch is a large buffet served in the shade of the aft deck canopy that will attract even the most dedicated sunbather. You will enjoy a wide variety of international dishes, fantastic salads, fresh fruit and delicious baked desserts.
Between meals there are plenty of snacks including bowls full of chocolate goodies, granola bars, fresh fruit and flavorful appetizers in the afternoon.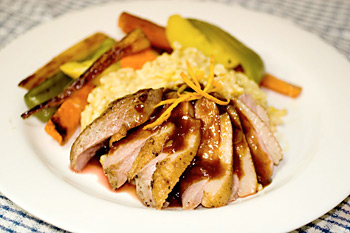 Dinner is a classic sit-down event and is the culinary highlight of the day. A savory blend of cosmopolitan cuisine and Caribbean fare are complimented by a broad selection of fine wines. A week of dining on the Cuan Law is a truly memorable experience.
Every taste bud tantalizing meal is an event to anticipate. Think of some of the best meals you have ever had, put them into a one week menu and you will have a good idea of the level of dining that Cuan Law provides. Needless to say, this is not the time to start a diet.
Self-service Bar
The self-service wet bar is located in the main salon. Everything, including alcohol, is free of charge. There are built in coolers round the mast next to the bar for beers and juices and a very cold freezer section for that vodka martini! Sodas are in a gun, and there is always plenty of ice.
A full selection of beer and liquor is always on hand. Mix your own or ask one of the crew to blend up their favorite island concoction for you. We have a selection of white and red wines available for bar consumption and different white and red wines is offered at dinner every night. Coffee and tea service is provided round the clock and hors d'oeuvres are served in the late afternoon.
Click Here to See a
Sample Menu
The sandy white beaches of the British Virgin Islands are not to be missed and one of the most pristine beaches and the clearest blue water is reserved for the Cuan Law Beach Barbecue.
A full selection of beer and liquor is also on hand.
Make sure you save room for those mouthwatering deserts such as Chocolate Decadence Cake or a Lime and Macadamia Tart.