British Virgin Islands, Island Excursions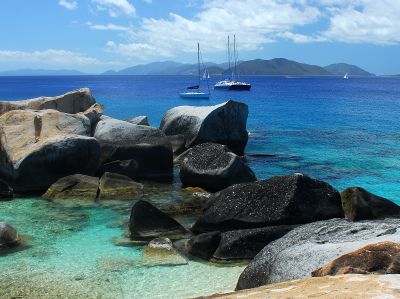 The British Virgin Islands (BVI) are made up of over 50 islands and cays, ranging from idyllic uninhabited islets, such as Sandy Cay, to small island resorts like Cooper Island and the main island of Tortola, with its towns, ferry ports and Beef Island airport.
The inlets and bays of the BVI provide a stunning variety of scenic anchorages, from large sheltered bays on the main islands, such as Tortola's Road Harbour, to secluded coves with gorgeous white sand beaches and tranquil waters. The BVI also boasts an incredible diversity of diving experiences, ranging from colorful coral reefs teeming with small fish to atmospheric wreck diving and thrilling open water sites where divers might spot leatherback turtles, sharks, rays and pelagic fish.
With so many quiet bays, picturesque anchorages and spectacular diving and snorkeling sites, the BVI is one of the treasures of the Caribbean. Each island has its own unique charms, attractions and sites of interest. Norman Island is renowned for its piratic history, Sandy Cay is the very image of the perfect desert island, and Jost Van Dyke is unrivaled in the BVI as a place to let your hair down and try local cocktails like the Painkiller.
A vacation aboard the Cuan Law is one of the best ways to explore the gorgeous inlets, beaches and dive sites that the BVI has become so famous for. Trips can be tailored to the individual preferences of each party, whether they are adventurous divers in search of spectacular underwater sites or sun seekers who love nothing better than relaxing on deck sipping a cold cocktail or strolling barefoot along one of the powdery white sand beaches.
Click on the links in the menu to find out more about the unique character of each island.
---